Entergy Arkansas' Solar Energy Option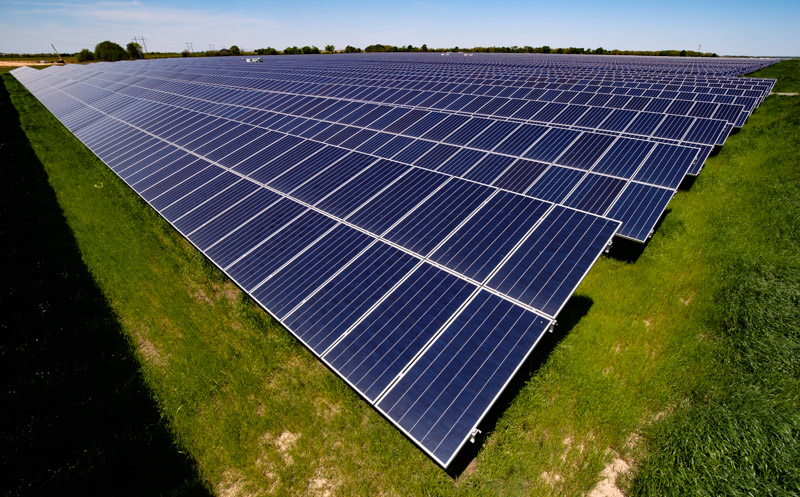 Stuttgart solar facility.
As the largest solar provider and a leader in renewable energy in the state, Entergy Arkansas is offering you the opportunity to participate in solar power generation to help meet your renewable energy objectives.
If you have personal or business goals involving renewable energy sourcing, but your budget or business model does not permit you to build and maintain your own solar project, consider tapping into the state's largest solar project with Entergy Arkansas' Solar Energy Option.
Entergy Arkansas purchases 81 MW of solar energy from Stuttgart Solar, LLC a subsidiary of NextEra Energy Resources at a solar facility near Stuttgart and will purchase another 100 MW of solar energy from NextEra's Chicot Solar project at Lake Village when the plant comes online in 2020. 
By participating in the Solar Energy Option, you will receive:
Renewable Energy Credits (also known as Renewable Energy Certificates, or RECs) associated with the elected amount of energy retired on your behalf.
Your proportionate share of all revenue (capacity and energy market) associated with the renewable resource.
No other rates or riders are affected by participation in this option.
RECs represent the energy generated by renewable energy sources, such as solar. Buying RECs is not the same as buying electricity. RECs simply represent the clean energy attributes of renewable electricity. For answers to frequently asked questions about RECs, click here. 
If you have decided to participate after reviewing the tariff, please click here to access the solar agreement.
Please complete the agreement and email it to ebc@entergy.com or mail it to:
Entergy Business Center
Solar Energy Option Team
P. O. Box 551
Little Rock, AR 72203
If you have questions, email ebc@entergy.com or call the Entergy Business Center at 1-800-766-1648.
How Billing Works:
You will continue to receive a bill as usual with all applicable rates and riders based on your usage. All other provisions, prices and regulations of Entergy Arkansas' standard rate schedules at the time of service will apply and are not modified by participation in the solar option.
A separate line item will appear on your bill if you have signed up to participate.
Renewable Energy Credits associated with the block of energy for which you subscribe will be retired on your behalf. For more information on RECs, click here.
The monthly solar credit or charge is dependent on the calculations from the monthly market price changes through MISO and will be calculated as Solar Energy x (Solar Energy Rate-MISO Settlement Rate)

Solar Energy = kW block to which you have subscribed.
The Solar Energy Rate = $0.05345 per kWh.
The MISO Market Settlement Rate = varies monthly depending on the market.
Provisions of the Solar Energy Purchase Option:
Participation requires a one-year agreement. You may renew annually.
If you are a net-metering customer, you are not eligible to participate in the Solar Energy Option.
If you are a residential customer, you can subscribe in 1 kW increments, with a maximum of 5 kW per customer.
The subscription increments for Small General Service ("SGS") customers are 5 kW blocks and 100 kW blocks for Large General Service ("LGS") customers with no subscription cap as long as the capacity is available through the program.
Entergy Arkansas will initially offer approximately 40 MW to customers through the Solar Energy Option. A specific portion of the approximate 40MW will be set aside for residential and SGS customers as follows:
10% for residential customers (~4MW).
20% (~8MW) for SGS customers.

If the 20% is not fully subscribed to after six months from the tariff effective date, then any eligible customer can take advantage of the balance.